At University Parkway Animal Hospital in Jackson, TN, we offer pet wellness exams to help keep your pet happy and healthy. During the exams, we can check your pet's overall health, recommend any vaccinations, and offer treatment for any conditions. Before you schedule your appointment, learn about the importance of pet wellness exams below!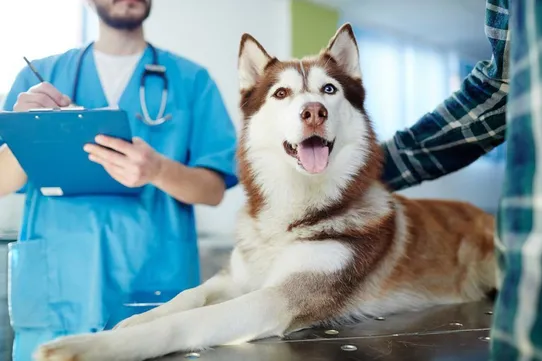 Importance of Pet Wellness Exams
Pet wellness exams are an important part of being a pet owner. Just as you would bring your child in to see a pediatrician for a wellness checkup, you should bring your furry friend to see our veterinarian at least once every six months. Animals are susceptible to diseases and conditions just like humans and early detection is important for prompt treatment. In addition, the services our vet provides can improve your cat or dog's mobility and extend its lifespan.
Benefits of Pet Wellness Exams
Wellness exams can offer various benefits for pets and their owners. Some of these benefits include:
Build a Relationship with the Veterinarian
When you visit us regularly for pet wellness exams, a relationship begins to grow between our veterinarian and your pet. Not only that, but routine visits also make it easier for our vet to detect changes early on and diagnose new issues. When we know your pet's history, we may be able to quickly see that some changes have occurred that may need to be observed more closely.
Another benefit of regular pet wellness exams is that your cat or dog will grow accustomed to the visit. He or she may have less anxiety and will know that it isn't in danger when coming in for vaccinations or other services.
Early Detection of Health Issues
Regular pet wellness exams provide our vet with ample time to detect any potential health issues before they become problematic. If you wait too long between wellness exams, it's possible that a condition could go untreated and become more serious or even fatal.
An Opportunity to Get Questions Answered
During a pet exam, you can ask questions about your pet or about animals in general. Regular pet wellness exams also give you the chance to learn how to care for your pet at home. Our vet can provide guidance on how to brush its teeth properly, how to remove ticks, and when its next vaccination is due.
What to Expect During a Wellness Exam
When you bring your furry friend in for a pet well exam at the Jackson Animal Hospital, we will begin with a full physical examination. Our vet will check your pet's skin, eyes, teeth, ears and other body parts. Along with that, we will also listen to its heartbeat and breathing.
Your pet will get weighed on a scale and will also be checked for parasites like heartworm. If he or she needs a vaccination, our veterinarian will administer it. If we determined that your pet needs further health care, we will recommend when to visit us again for additional treatment.
When to Bring Your Pet in For a Wellness Exam
We recommend that your pet starts seeing our vet at about six weeks of age. At that time, we will provide a series of core vaccinations to help your pet build up his or her immunity to common illnesses and diseases. Our veterinarian will also offer a vaccination schedule so you know when to set up future visits. Once your pet is an adult, it will need to visit us once a year. In its senior years, we may recommend to see us twice a year to reduce the risk of chronic conditions and keep up with the changes that happen when your cat or dog is older.
Contact us for an Appointment Today
To learn more about pet wellness exams or to schedule your visit, contact University Parkway Animal Hospital in Jackson, TN, at (731) 661-0711 today. We are happy to provide you with additional information and set you up with an appointment. When you're looking for a veterinarian near me, our team looks forward to assisting you!