Pet dental care is important in ensuring that your cat or dog stays as healthy as possible for the long term. At University Parkway Animal Hospital in Jackson, TN, we provide dental exams and cleanings to prevent diseases and improve your pet's overall health. Prior to visiting us, learn more about pet dental care below: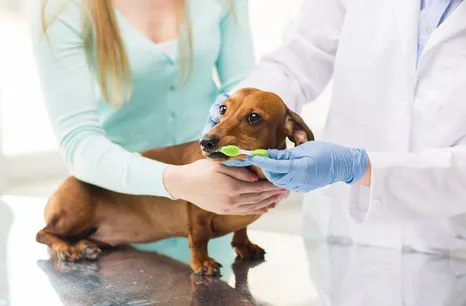 The Importance of a Pet Teeth Cleaning
Poor dental health can cause your pet severe discomfort and also lead to complications in other parts of the body. When you visit us for cleanings regularly, we can eliminate any tartar or plaque that can result in periodontal disease. Along with that, we can detect any diseases or infections early and ensure that your pet's mouth is healthy.
Work with Our Trusted Team
Since your pet needs to be sedated to have its teeth cleaned, you need to work with a pet hospital you can trust for this procedure. While a cleaning is a routine procedure, it's still important to feel comfortable with the people who are caring for your pet. Our team has many years of experience with proper pet dental care and you can trust us to provide the best care for your cat or dog.
Quality Care to Protect Your Pet's Health
Good dental care means a better chance for overall good health and that can give you and your pet more time together. Since the bacteria in the mouth can travel to the heart and other areas of the body, decaying teeth and gum infections can shorten your pet's lifespan. By working with our veterinarian to address dental care issues, you'll have the peace of mind that you're doing everything you can for your pet's and its health.
Contact us for an Appointment Today!
If your pet needs dental care, let our team at University Parkway Animal Hospital in Jackson, TN, help. To learn more about our services or to schedule your exam, contact our office at (731) 661-0711 today. When you're seeking a veterinarian near me, we look forward to assisting you!